I never thought I would say this, but I am in love with green smoothies. It's true.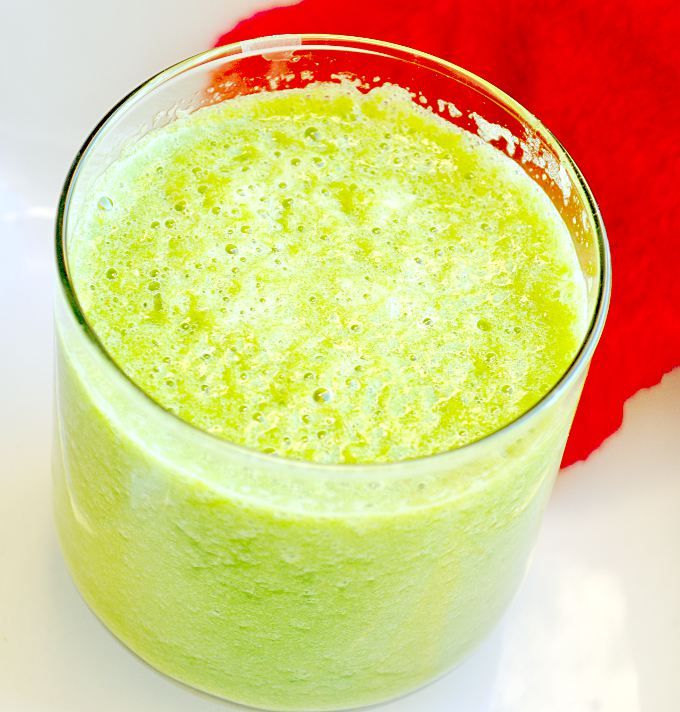 When I was growing up, my mom, taking after her own mother, would occasionally make "green drink," which consisted of radish tops, celery leaves, pineapple juice, and I'm not really sure what else.
Sorry, Mom and Grandma, but it wasn't very good.
So I was skeptical when I heard about adding greens, like spinach or chard, to smoothies. A friend of mine recommended the book "
Green for Life
" by Victoria Boutenko. I was intrigued, so I checked it out from the library.
Very fascinating!
The author claimed that smoothies with greens in them actually taste good. Could it be? But why add greens in the first place?
They are full of nutrients: vitamins, minerals, antioxidants, enzymes and chlorophyll. In fact, some people say greens should be their own food group separate from regular vegetables and fruits because they are above-and-beyond good-for-you.
They supply your body with protein - actually they contain the amino acids that make up protein. This was news to me. If you're like me, you equate protein with meat. But where do the animals we eat get their protein from? Plants!

For example, raw Swiss chard (which I've been getting from my mom's garden - thanks, Mom!) is 23% protein and raw spinach is 30% protein.
We've been told animal protein is "quality" protein because it is efficiently turned into the proteins our body needs to build muscle and carry out many necessary functions. It turns out that efficiency does not equal greatest health. In fact, "low-quality" plant protein, which allows for slow but steady synthesis of new proteins, is the healthiest type of protein. (See "The China Study" by T. Colin Campbell, PhD and Thomas M. Campbell II, MD)

They are easily digested and promote bowel regularity. Blending the greens breaks apart the cells walls, making the nutrients much easier for your body to assimilate. Plus you can eat a lot more raw greens if they are blended up. Have you ever eaten a pound of plain raw spinach in one meal? Me neither.
They are low in calories but filling.
They are easy to make.
They make you feel really good.
I could go on since there are a lot more great reasons (here's a list of 20 reasons to drink green smoothies), but suffice it to say, green smoothies = awesome nutrition.
I decided to give it a try.
It's recommended to use a high-powered blender, like a Vita-Mix or a Blend-Tec, to really make your smoothie smooth, but all I had was a regular blender. So that's what I used.
Banana, strawberries, spinach and water. Not bad. The spinach was a little chewy, but it actually tasted good.
I asked my mom if I could borrow her Vita-Mix, since she hasn't been using it lately, and she agreed. The powerful blenders really make a big difference.
For the past four months I have consumed a green smoothie almost every day. They are that good! Drinking them feels like I'm satisfying a deep thirst. I have more energy. I have less cravings for sweets. I look younger. Okay, I made that last one up. I
hope
I look younger, but it's probably wishful thinking. Some people claim they have less wrinkles and less gray hair from drinking green smoothies.
I have since tried many different combinations of fruits and greens. Here are some of my favorite recipes:
Kid-Friendly Strawberry Banana
6-7 frozen strawberries
1 pear, cored and cut up (I left the peel on) or 1 navel orange
1 banana
2+ cups spinach or other greens (I stuff the rest of the blender full of greens)
2 cups water
Blend for 45 seconds or so.
Wonderfully creamy and delicious.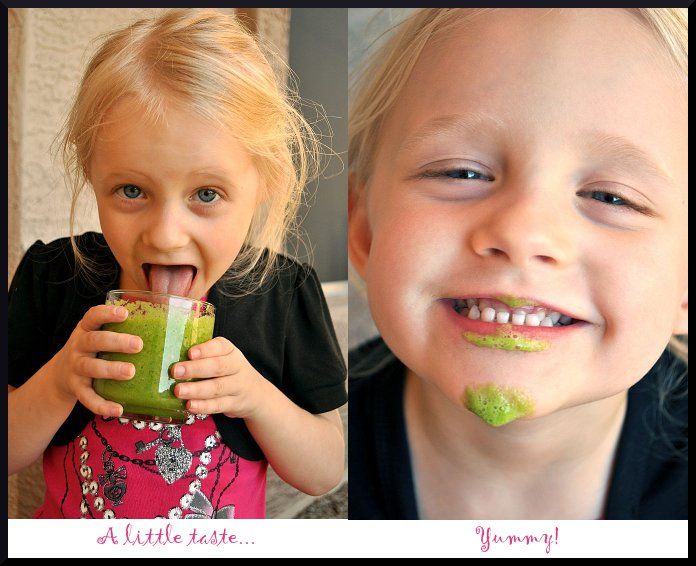 Zingy Citris
1 grapefruit, peeled, seeded and cut up
1 navel orange, peeled and cut up
1 cucumber, peeled and diced
1 banana
2+ cups kale or other greens
1/4 cup water + 4 ice cubes
Blend it up and serve with more ice, if desired. (I always add ice or something frozen because I think they taste better cold.)
So refreshing! Cool and tingly.
Tropical Favorite
1 banana
1 mango, peeled and diced
1/2 fresh pineapple
1 kiwi, peeled and diced
2 cups kefir
1 packet Stevia
2+ cups greens
1/2 cup water + some ice cubes
I think this really is my favorite! Love that fresh pineapple and mango!
Oh, and what is kefir? It's an ancient cousin to yogurt that is supposed to be more nutritious. My mom gave me some starter granules, so I can make my own. (I just add 2-4 cups of milk, let it sit for 2 days at room temperature, strain out the granules, and it's done!) Kefir contains a plethora of vitamis, beneficial probiotic bacteria, and rich enzymes that promote healthy growth, optimize digestion, and fight illness. Plus it makes the smoothies extra creamy. I like to add some kind of sweetener to my smoothie when I use kefir.
Chocolatey Dream
2 bananas
2 T cocoa powder
2+ cups kale or other greens
2 cups unsweetened vanilla almond milk
ice cubes
Creamy, chocolatey, a guilt-free dessert
Berry Pear
1 1/2 cups frozen mixed berries
1 banana
1 pear
2+ cups greens
2 cups water
The dark berries (like blueberry and blackberry) make the smoothie purple instead of green, so it's easier to get kids and green-smoothie-newbies to try it.
I could go on and on with various recipes, but once you get the hang of it, it's easy to put together a yummy smoothie. Here are some tips to help:
Fill the blender half full of fruit, then stuff the rest full of greens. Maybe add less greens at first as you get used to them. If there's more fruit than greens and you're using a mild green like spinach, you really can't taste the greens.
I (almost) always add a banana because of the creamy texture and taste.
Good fruit for smoothies: pears, bananas, berries, mango, papaya, pineapple, oranges, grapefruit, peaches, nectarines, watermelon, kiwi, apples, grapes. Add any combination you like!
Greens I have personally used in smoothies: spinach, chard, kale, celery, mustard greens, beet greens, dandelion greens, romaine lettuce, collard greens, radicchio, arugula, parsley. Add more than one kind if you want. Using all radicchio, for example, will be too bitter, so use mostly spinach and a little radicchio. If you don't know how bitter a green is, just bite off a piece and you'll soon know.
Get organic or pesticide-free greens whenever possible. They have up to 50% more nutrients and you won't be consuming pesticides. The whole point is to get as much nutrition as possible!
Use a variety of greens so you get a broad spectrum of nutrients and amino acids.
When using more bitter greens, like dandelion greens, add 1/4 lemon (including rind) to counteract the bitterness. Actually, I often add 1/4 lemon if there's no other citrus in the smoothie.
When adding plain yogurt or kefir, I like to add some Stevia or some agave syrup, so it won't be too sour.
Why not add some flax seed meal for your omega-3 boost? I add 2 tablespoons to pretty much every smoothie.
Add water according to how thick or thin you like the smoothie. I tend to go for thinner smoothies. That way they're easier to drink through a straw and easier for my kids to drink.
Can't get your kids to try it? Freeze it into a Popsicle. Kids love Popsicles!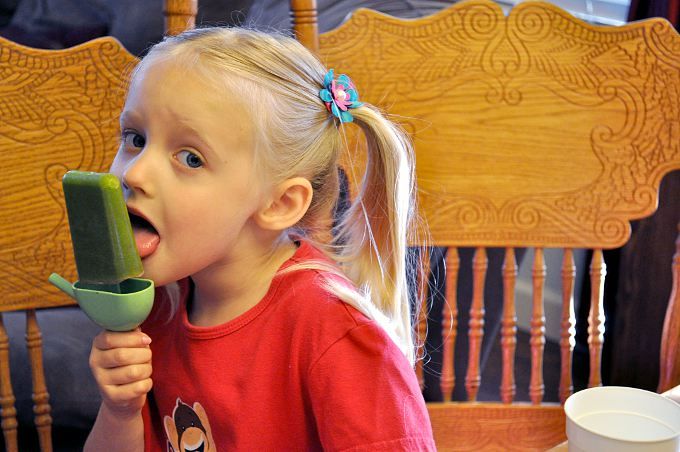 Things I tried in smoothies, but didn't like: fresh coconut (tasted good, but texture was awful), cranberries (too sour), red leaf lettuce (too stringy), cilantro (too strong)
If you are still reading this, thank you, and I have some exciting news to tell you. "
The Green Smoothie Girl
" (Robyn Openshaw, author of "12 Steps to Whole Foods") is coming to Mesa! She is teaching a green smoothie class for free:
Saturday, May 12, 2012
7:00 PM
Red Mountain Center
I will be going, so join me!
Register here
. If you don't live in Mesa, check out her
website
for free classes around the country.
I hope you will love green smoothies as much as I do, and reap many health benefits from them. Cheers for green smoothies!